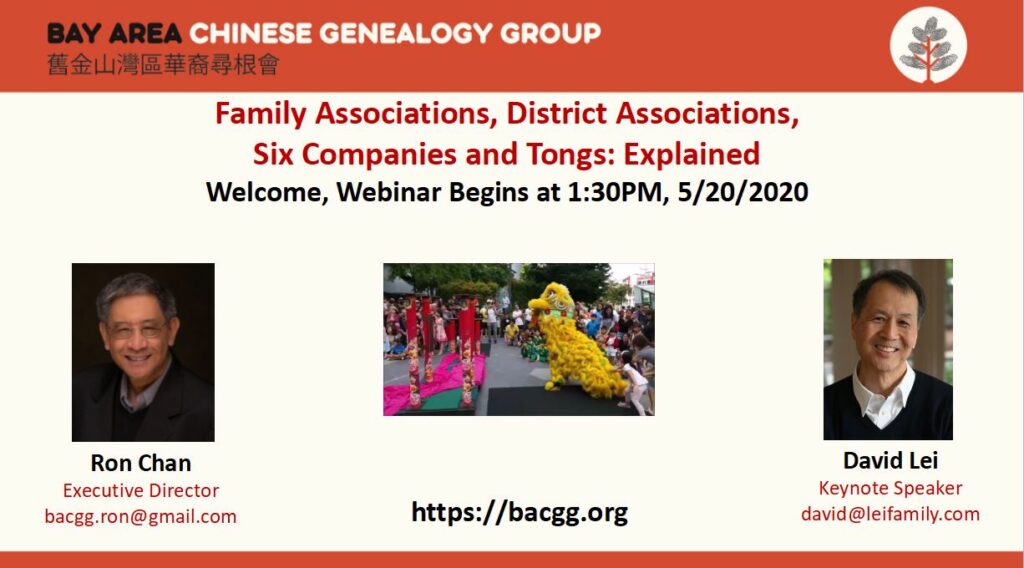 The BAY AREA Chinese Genealogy Group is no more.
We are now bigger than the Bay Area! Our *first* ever webinar was sold out for David Lei's Chinese Family Association presentation. We had attendees logging in from the far flung corners of Hawaii to New York, and all points in-between including Southern California, the Family History Center in Salt Lake City, Idaho, NYC, New Hampshire and beyond.
Not only do I wish to thank David Lei for his support in his third presentation with BACGG, but to the Webinar Task Force Team, spearheaded by Will Lee. Will was the webinar guiding hand for all the back office magic pulling levers, dialing knobs and yanking the strings to make my mouth move. Will assisted in not only with technical skills, but creatively with webinar and music direction. With additional steady hands from Alvin Huie, Bruce Chin and myself, this inaugural webinar became a reality. Quite a feat considering we all started with zero Zoom knowledge. Good job Will. Good job guys.
Presentation Downloads
Many of you asked for a double dose of David. Available now are an audio podcast, streaming video of all three segments and a PDF of the webinar: Family Associations, District Associations, Six Companies and Tongs: Explained.
PowerPoint: https://drive.google.com/file/d/1ZQkRsGKUL-JvEKgfkZ3qasbjvuOxpOQr/view?usp=sharing
Streaming Video:
Ron Chan, Executive Director Welcome and Introduction (6 min) https://www.youtube.com/watch?v=9YgooXNPSpw&t=4s
David Lei, Keynote Speaker, Webinar (1hr 3 min) https://www.youtube.com/watch?v=lAvo4SMULJI&t=17s
Special Optional Session – Meet the Speaker Supplemental Q&A (51min) https://www.youtube.com/watch?v=_kaNgD02meE&t=146s
Audio Podcast
Introduction https://drive.google.com/open?id=1YIX8d4wn47KxadsRqb8s57ZUpGstqXUt
Webinar https://drive.google.com/open?id=1hQNMt5xhBnH-zjuPwF3_LqeHBpV9svXF
Meet the Speaker https://drive.google.com/open?id=1x7f2SdzcDUH9ciPHOj4i-SjhdePGknbB
Survey – Help Us Plan the Next Webinar https://docs.google.com/forms/d/1OLFKqQQgujDlhmi4tAdDOXGoimbP7l2rU4RrxEdTKTI/edit
Additional Resources
In case you wish to read up on the institutions in Chinatown, below are two great online sources.
Him Mark Lai – 1987 – Historical Development of the Chinese Consolidated Benevolent Association / Huiguan System
https://himmarklai.org/wordpress/wp-content/uploads/Historical-Development-of-the-Chinese-Consolidated-Benevolent-Association.pdf?x13317

William Hoy
Chinese Consolidated Benevolent Association (Chinese six companies), 1942 – 33 pages
https://babel.hathitrust.org/cgi/pt?id=mdp.39015019233439&view=1up&seq=22

Details 2017 genealogy trip to China: https://www.dropbox.com/s/02ik0lyh3rg4n6t/China%20Nov%2010%20-%2022.docx?dl=0
If you have questions of David Lei, please post them in the comments section and he will address any outstanding questions, or email him directly at david@leifamily.com
Be well. Be Safe
Ron Chan, Executive Director, BACGG