FamilySearch Library, 4766 Lincoln Ave, Oakland, CA, Oct 19, 11AM – 1PM
Registration: Click here to register: Digitize and Document Your Family History
The FamilySearch Center, in conjunction with the Bay Area Chinese Genealogy Group, will be hosting a free seminar.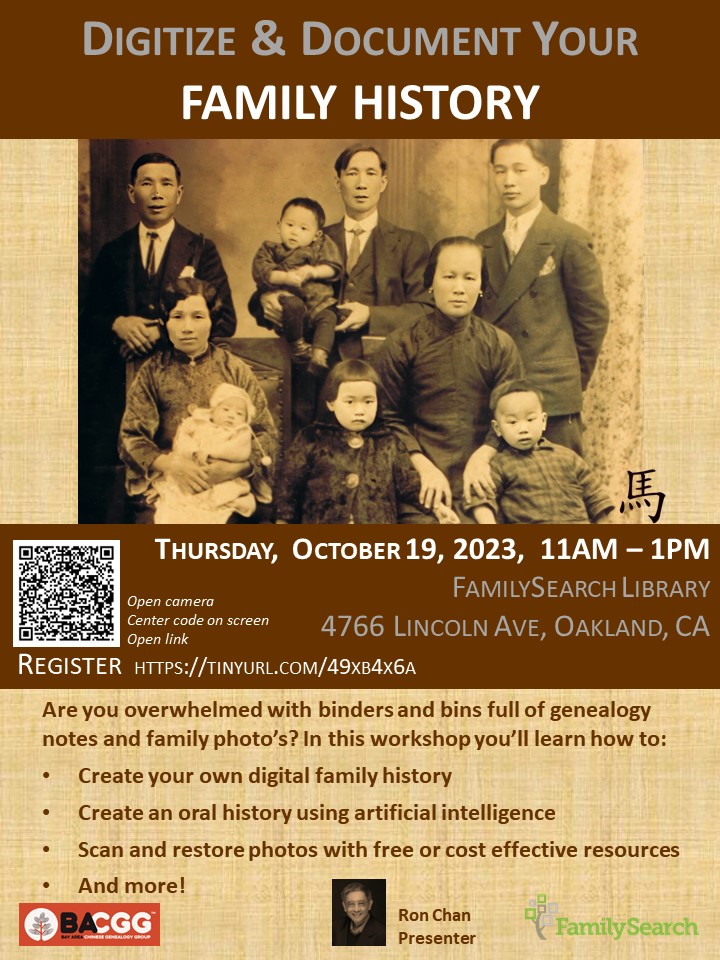 How To Digitize & Document Your Family History
This session takes you into the physical and virtual world on how to build a multimedia family library. We will demonstrate and teach "how to" create an oral history using artificial intelligence, scan and restore photos, reveal free/cost effective multimedia conversion resources, and demonstrate a digital family history book. You will walk away knowing key resources, best practices, and tips on how to create your own family legacy.
About The Speaker: Ron Chan
Ron has lectured on the principals of documenting family history at nine consecutive Genealogy Workshops, presenting and teaching how to create novel and compelling ways to bring family history to life. He is Founder and Executive Director of the Bay Area Chinese Genealogy Group, whose mission is to share, educate and tell the story and struggles of the past, so future generations may know their roots.