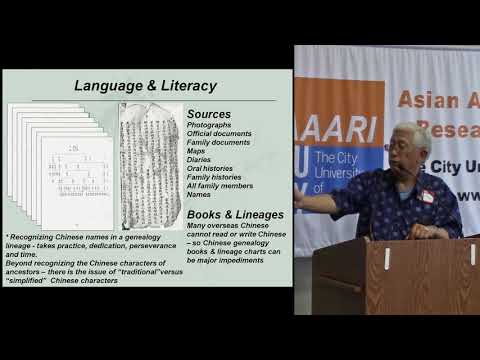 Workshop dates: Tuesday thru Thursday – January 4 – 6, 2022 8:30AM – 6 PM
California Hotel & Casino, 12 E. Ogden Ave, Las Vegas, NV
Registration Cost: $325 until December 2, 2021. $375 per person after December 3, 2021. After December 3, 2021 no refunds.
Meal / Hotel Deal: 4 nights at the California Hotel, 12 meals, $180 per person. Requires double occupancy $360. Once you register, you will receive the special discount booking code to make your reservation. This hotel / meal deal must be booked by December 3, 2021
Registration: Contact Henry Tom [ Henry.Tom@Cox.net] 480 980 8715
Face masks are required The California Hotel & Casino requires that face masks be worn by workshop attendees. Workshop attendees should follow the hotel, city & state rules & requirements in terms of face masks, maintaining social distancing and washing hands frequently.
This workshop provides insightful presentations on Chinese genealogy research. It instructs attendees on how to use various techniques to advance their own research and discover the interesting information pertaining to their family / clan history and to identify those resources that can best serve them. There will also be exposure to the various information, material, and tools available on the Internet and in books and other sources to assist in compiling and documenting Chinese lineages. The ancestral villages of attendees will be identified and located – the primary source for family genealogy books.
This is a "how to" workshop that educates you on what you need to know in order to start performing Chinese genealogical research and/or visiting your ancestral village in China. The intent of the workshop is to educate people about Chinese genealogy research – so they can start researching and compiling their Chinese genealogy lineage – without having to be Chinese literate. Some of the Chinese narratives, lineage annotations, and histories do require translation. There will be translators at the workshop to help with limited translations. Please bring your family genealogy information and lineages and let experienced researchers assist you during the Round-Table sessions in the afternoons.
This is a 3-day workshop – includes: Morning Presentations – Afternoon Round Tables – Afternoon Tutorials
Draft Agenda (Subject to Change)
Monday, January 3 Check in – California Hotel
Tuesday, January 4
9 AM – 9:45 AM Richard Cheu Keynote – "A Paper Son Who Graduated from Stanford Medical School."
9:45 AM – 10:30 AM Introduction to Chinese American Genealogy Research – Henry Tom
10:30 AM – 10:45 AM Coffee Break
10:45 AM – 11:30 AM Family History in Personal Documents & Non-Traditional Sources – Amy Chin
11:30 AM – 12:15 PM How to Digitize Photos and Share Family History in a Digital Age – Ron Chan
12:15 PM – 1:30 PM Lunch
1:30 PM – 3:15 PM Round Tables I
3:15 PM – 3:30 PM Coffee Break
3:30 PM – 6 PM Tutorial – How to Digitize Photos and Share Family History in a Digital Age – Ron Chan
Wednesday, January 5
9AM – 9:45 AM Researching Sources – Tony King
9:45 AM – 10:30 AM Chinese American Oral History – Richard Cheu
10:30 AM – 10:45 AM Coffee Break
10:45 AM – 11:30 AM Principals of Naming Conventions I – Patrick Chew
11:30 AM – 12:15 PM Principals of Naming Conventions II – Patrick Chew
12:15 PM – 1:30 PM Lunch
1:30 PM – 3:15 PM Round Tables II
3:15 PM – 3:30 PM Coffee Break
3:30 PM – 6 PM Tutorial – Chinese American Oral History – Richard Cheu
Thursday, January 6
9AM – 9:45 AM Zhujixiang: Source of Migration to the Pearl River Delta – Mel Thatcher
9:45 AM – 10:30 AM Art Lym: Chinese American Aviator – Andrea Yee
10:30 AM – 10:45 AM Coffee Break
10:45 AM – 11:30 AM TBD
11:30 AM – 12:15 PM Digging Deeper with DNA – Kristin Wat
12:15 PM – 1:30 PM Lunch
1:30 PM – 3:15 PM Round Tables III
3:15 PM – 3:30 PM Coffee Break
3:30 PM – 6 PM Tutorial – (Ancestry) DNA: Beyond the Pie Chart– Kristin Wat
Friday January 7, 2022 Hotel Check out – Return home
Round tables I -II – III) same 6 topics twice per afternoon for 3 days – an attendee can attend all the round table discussions & tutorials over 3 days – Translations, Finding Ancestral Villages, China Workshops, Technology ( Using a Cellphone to scan documents, Using WeChat, Using Chinese keyboard ), Documenting Your Genealogy Research, Round Tables for 2018 & 2019 China Workshop Attendees