Question and Answers
To BACGG Members and Guests: Your questions were consolidated from Evite, emails, Zoom Chat and Zoom Q&A, and we apologize in advance if we missed any of your questions. Due to receiving so many questions, we assigned a "topic" to each question to help group similar questions.
We owe a big thank you to our Chinatown Night Club panelists:
CALVIN FONG who presented the history of his father's (FONG WAN) ownership of a night club in Oakland, then expanding into San Francisco. Fong Wan was a Chinese herbalist by trade, but later expanded his businesses to include restaurants and night clubs with dancers, magicians, singers and acrobats from China.
COBY YEE who never stopped performing was named the 2020 recipient of the BHoF Living Legend Award by the Burlesque Hall of Fame in Las Vegas. Coby Yee is known as "China's Most Daring Dancing Doll", began dancing in the 1940s. Then she and her family became the owners of Forbidden City. Coby and the Grant Avenue Follies recently traveled to Cuba, Shanghai and Las Vegas to perform and she continues to inspire the next generation of performers. Check out these two websites for more information on Coby Yee: Burlesque Hall of Fame click ; NPR Weekend Edition Article click . Coby Yee died Aug. 14, one night before she was to receive the honor of "Legend of the Year" from the Burlesque Hall of Fame Museum in Las Vegas. This was exactly one month after our BACGG's webinar. Executive director Ron Chan, who had done extensive post webinar interviews with the participants and Coby, was particularly saddened as he had gotten to know Coby well. May she rest in peace.
The New Yorker Documentary
An Aging Burlesque Dancer's Unlikely Romance
Naomi Fry
Film by Carlo Nasisse and Luka Yuanyuan Yang February 14, 2021
The burlesque dancer Coby Yee began her stage career in San Francisco, in the nineteen-forties. She rose to popular acclaim at night clubs like the Chinese-themed cabaret Forbidden City, which was staffed and run entirely by Asian-Americans—and which Yee herself, along with her family, later bought and operated. Even as, in the late sixties, burlesque began to be crowded out by the arrival of San Francisco's full-nudity strip clubs, Yee continued to dance. (Forbidden City closed in 1970.) Although, practically speaking, Yee's stage shrunk, she herself didn't lose the glamour and pizzazz that had made her a renowned night-club entertainer, nor her desire to dance and perform. In the early two-thousands, at a dancing night for seniors held at a San Francisco pizza restaurant, Yee, by then in her early seventies, met Stephen King. A gangly, courtly man nearly twenty years her junior, King had been an aspiring experimental filmmaker and a holdover from the city's countercultural, antiwar movement. "It was so natural, despite our huge differences," King says, in the documentary presented above. "As soon as we started dancing, it's all we needed to do, you know? To be close, to fall in love, even to make a life together. "In "Coby and Stephen Are in Love," the co-directors, Carlo Nasisse and Luka Yuanyuan Yang, movingly recount the story of this unlikely pair. Separated by age, cultural milieu, and temperament—he romantic and unconventional, she no-nonsense and more focussed—King and Yee nonetheless forged a lasting bond, on the dance floor and off. Yang, who is based in Beijing, first met Yee in 2018, when Yang began shooting "Women's World," a feature-length documentary about a group of elderly Chinese women who had worked as burlesque dancers in San Francisco in the nineteen-forties and fifties, during the so-called Golden Age of the city's Chinatown. (Currently in post-production, the film is set to be released in 2022.) At the time of their meeting, Yee was ninety-one. "I was immediately like, 'Oh, my God, this woman is just amazing!' " Yang told me, when I recently spoke with her and Nasisse over Zoom. Nasisse, who is based in the States, joined the project after meeting and befriending Yang at a UnionDocs workshop. Nasisse, Yang, and the subjects of her feature, including Yee, travelled to Havana for a shoot. "When we went to Cuba, Coby and Stephen wanted to go out dancing every night," Nasisse told me. "So we'd go out and drink Coke and rum and try to find places for them to dance. We all became very close very quickly. Coby and Stephen are both artists in a very fundamental way, and that sensibility made sense to me and Luka."
A Facebook post from Carlos: I am thrilled to share that "Coby and Stephen Are In Love" is now online at The New Yorker Magazine's site. Yuanyuan Luka Yang and I had the pleasure of speaking with Naomi Fry about Coby and Stephen, how art and life are inseparable, and how sometimes filmmaking can feel like dancing. This was a remarkable journey and I want to thank some people for their support. We received early support from Marie-Helene Carleton and Micah Garen from The Screening Room. Cynthia Yee, Emily Chin, and the Grant Avenue Follies are amazing friend on and off the screen. The film would not be in its original form without the belief of Tim McManus who helped clear music rights at the very last minute. Some friends were amazing viewers of the many iterations of the film. Thank you Lauren Gallaspy, Chris Donlon, Penny Lane, Taylor Barron, and Don Hertzfeldt. I made this film with one of my best friends in the world, Yuanyuan Luka Yang. Thank you
credits: Coby & Stephen post compiled by Gail Chong dj Jun/2021
CYNTHIA YEE started her career with Dorothy Toy, including performing opening acts for Smothers Brothers and Patti Labelle. Cynthia was crowned Miss Chinatown San Francisco in 1967 and later founded the Grant Avenue Follies. Her team of dancers perform for hospitals, convalescent homes and fundraising events and Cynthia was awarded a Jefferson Award in recognition of her community service. Never one to watch things happen, Cynthia founded SF Chinatown Ghost Tours, where she leads folks on tours. She is also an active board member with Clarion Performing Arts Center, where Cynthia is in the process of exhibiting a display of Photos, Costumes and Showgirl Accessories, along with a display of artist, Frank Wong's miniatures. Still dancing, Cynthia traveled with Coby to Cuba, Shanghai, and Las Vegas to perform. To learn more about Cynthia see these websites: Grant Avenue Follies click ; Best of Clarion Performing Arts Center click ; SF Chinatown Ghost Tours click ; FoundSF article on Cynthia click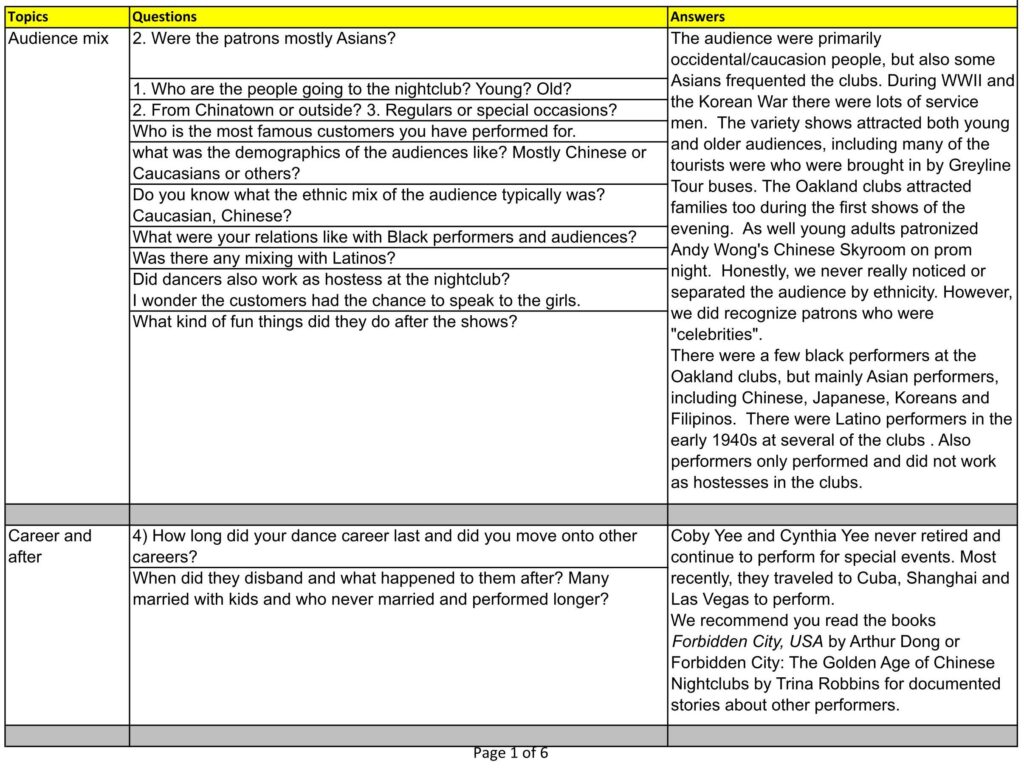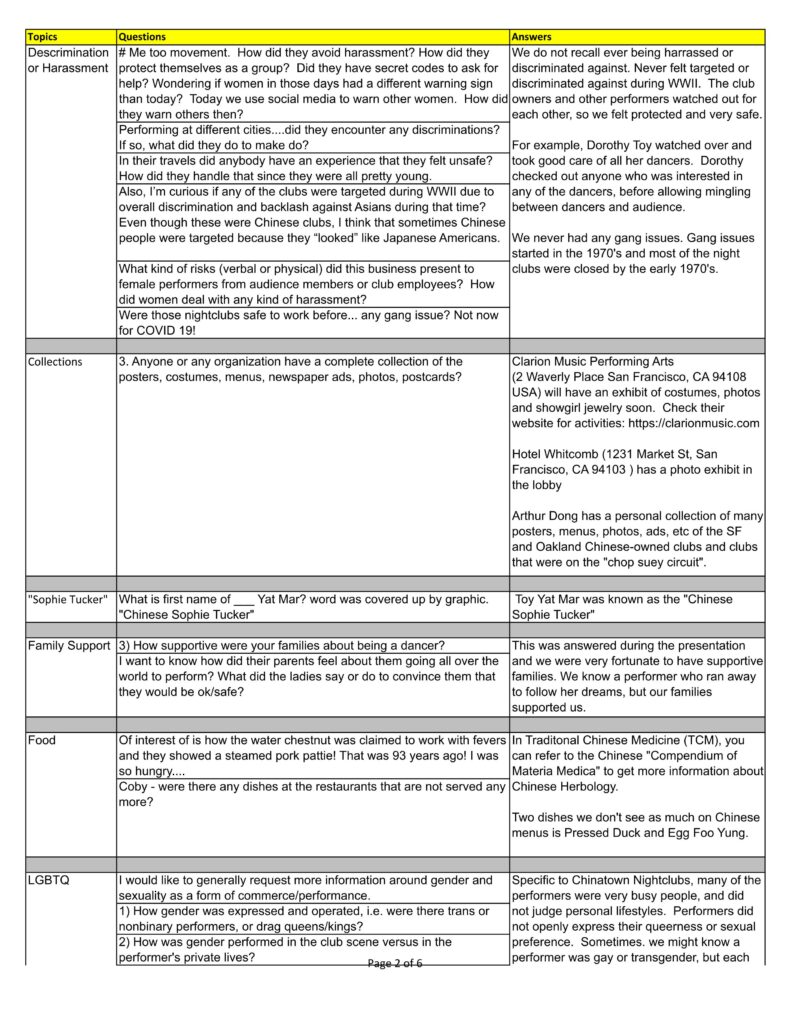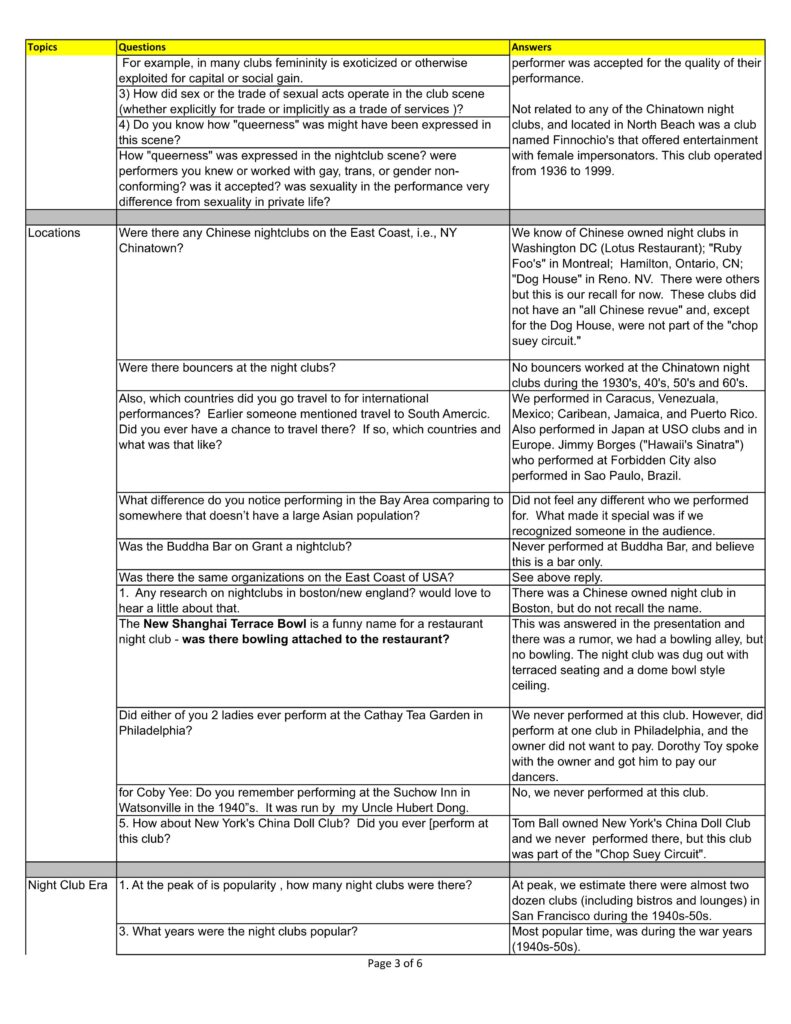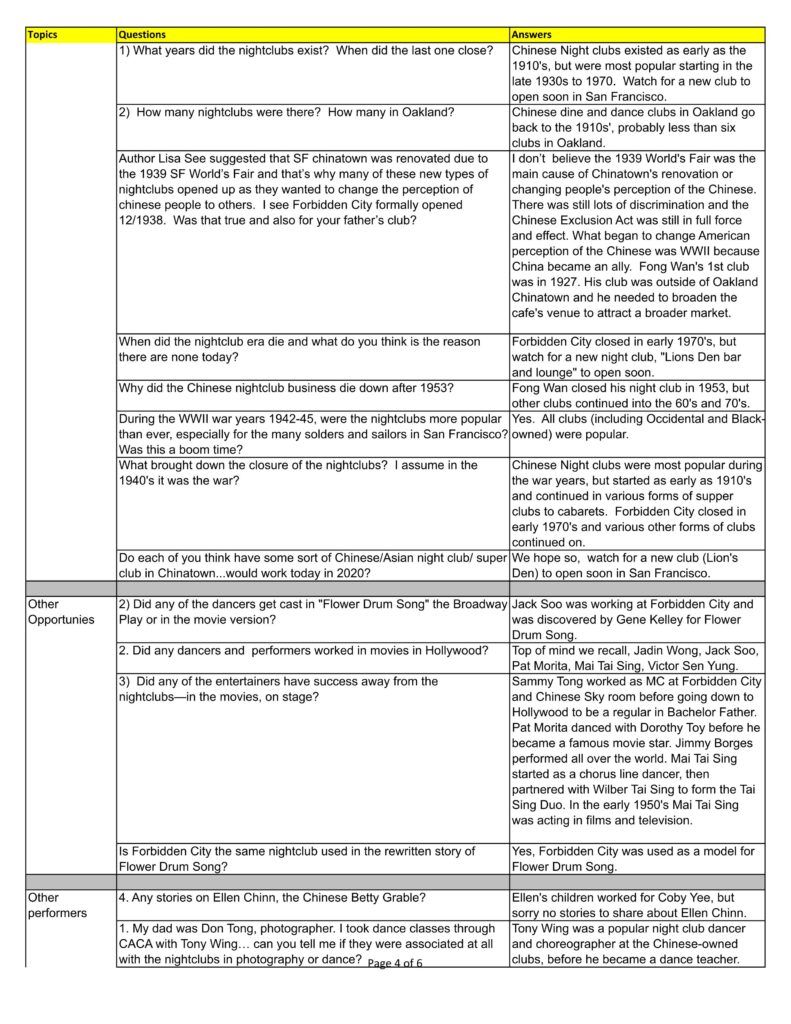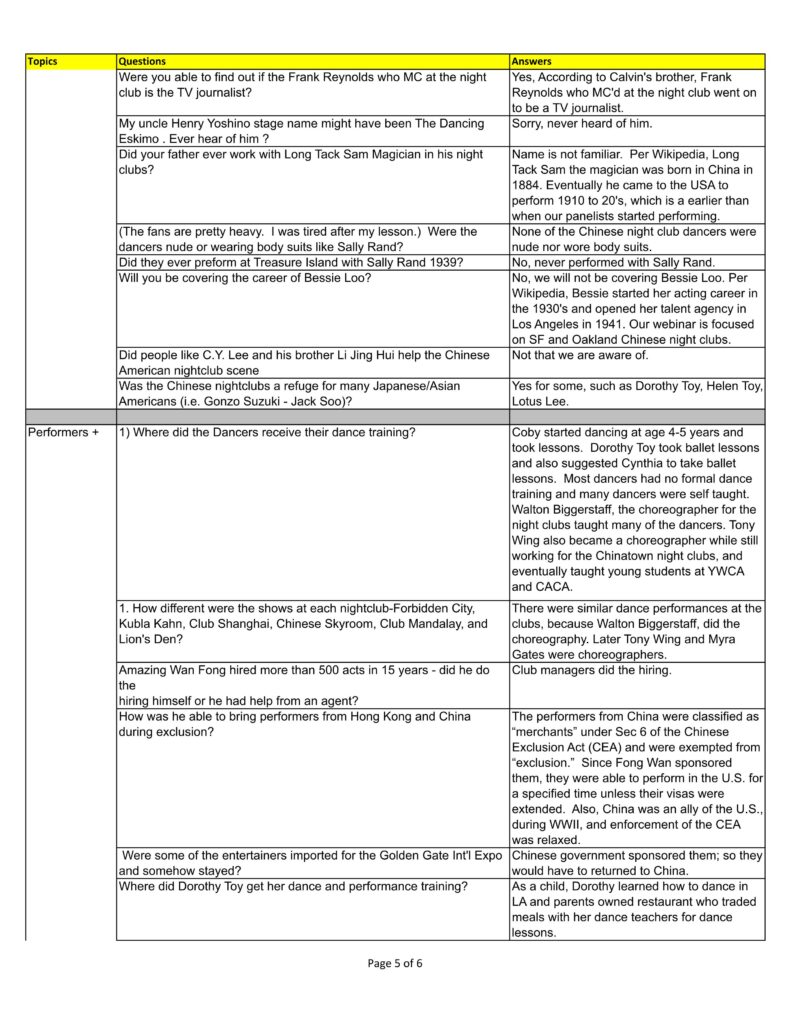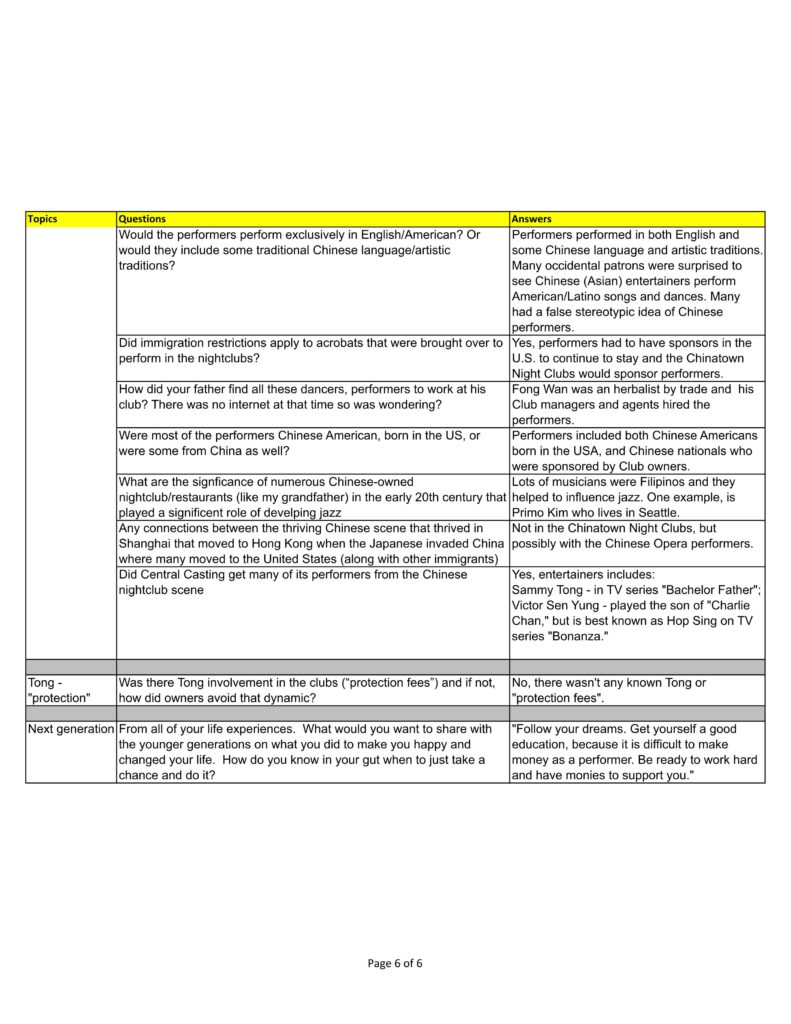 Questions and Answers view and download as pdf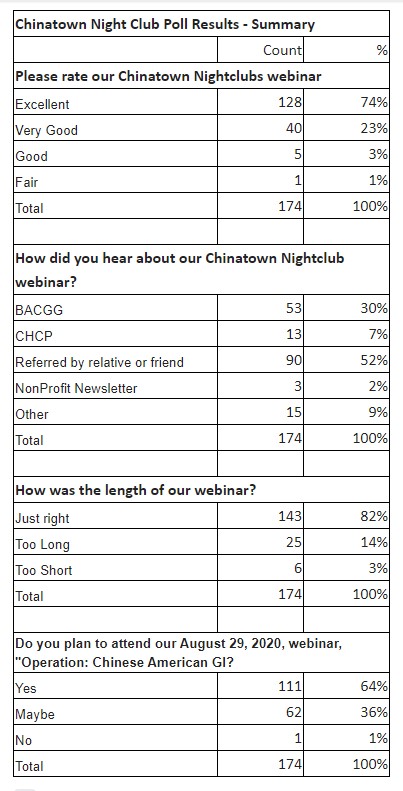 Production Personnel
Will Lee, BACGG – Webinar Broadcast Director
Alvin Hui, BACGG – Webinar Technical Director
Bruce Chin, BACGG – Webinar Technical Director
Doug Joe, BACGG – Customer Service, Chat Moderator, Post Broadcast Editing
Rabindra Hayashi, CAAM – Zoom Consultant
Christian Jochim, CHCP – Executive Producer
Erwin Wong, CHCP – Executive Producer
Gail Chong, BACGG – Post Broadcast Panelist Coordinator
Jeannie Young, BACGG – Post Broadcast Panelist Coordinator
Ron Chan, BACGG Executive Director – Content Creation
credits: Statistics and questionnaire compiled and collated by Jeannie Young and Gail Chong dj Jun/2021