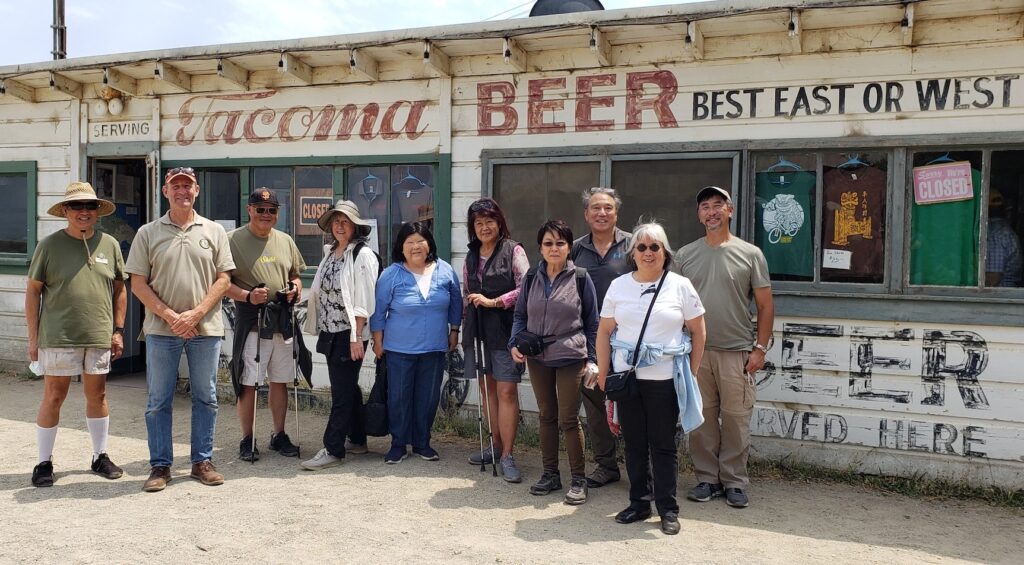 In mid-July, a member of the Bay Area Chinese Genealogy Group (BACGG) contacted Dr. Jason Lau to make arrangements for a docent tour of China Camp State Park. Half of the eight were first time visitors. Martin Lowenstein, FOCC executive director, welcomed the group at the café. The slightly breezy August afternoon visit included a tour of the former Chinese fishing village by Ed Lai. His presentation included the history of Miwok, Spanish, and Chinese inhabitants. His tour began with a walk out on the pier to see the replica of a Chinese fishing junk, museum, and shrimp processing equipment. Back at the cafe, volunteer, Ernie Stanton, shared details about the Quans, the last family to run the café, and pointed out photos from when the village was used as a set for a John Wayne film, Blood Alley.
Naturalist, Jerry Coe, led the group on a nature hike on the Turtle Back Loop. He discussed the history of the pre-colonial Miwok who lived in harmony with the land. Jerry patiently helped members of the group learn to identify different flora. They all tasted pickle weed, a source of salt, from the marshland.
Members of the group joined FOCC and also made donations. An article about China Camp State Park will be posted on the BACGG website later this month.
"China Camp State Park is a 1,514-acre park nestled along the shoreline of San Pablo Bay in San Rafael, California. The park boasts panoramic views, lush oak woodlands, and over 100 acres of protected tidal salt marsh. Whether you're a hiker or mountain biker, a history buff, or a beach lover, you'll have an unforgettable day at China Camp.

Visit China Camp's historic shrimping village and beach area. The village is the perfect place to bring friends and family for a fun day trip. Visit the museum to learn more about China Camp's fascinating history. Stop by the historic cafe on weekends for snacks and cold drinks. The site features first-come, first-served picnic areas with tables, drinking water, bathrooms, and an outdoor shower.
Learn more about the Chinese shrimp fishing in San Francisco Bay: watch a video by Chinese Whispers: Bay Chronicles.
http://chinese-whispers.org/bay-chronicles/

Friends of China Camp (FOCC) is the community-based nonprofit organization that keeps China Camp State Park open. Since 2012, FOCC has been the sole operator and manager of the park. The organization, largely run by volunteers, is responsible for covering all expenses related to keeping the park open. Find out how you can become a member, and help keep China Camp open and thriving for all.
Friends of China Camp (FOCC) is committed to keeping China Camp State Park open and thriving for our community. To learn more about China Camp, plan a day trip, or camping trip visit the FOCC website at https://friendsofchinacamp.org