…. the story of two families.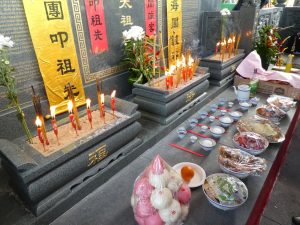 Jeanne Young reminded me this year Ching Ming is April 4, 2020. Here is the story she graciously shared of how Ching Ming is celebrated by her family …
"I'm not sure if our BACGG members participate in Ching Ming, but I have been visiting our family cemetery twice a year for as long as I can remember. Most folks visit the cemetery at least once a year for Ching Ming (Spring time). This is the one day families pay respect to their departed relatives.
First we clean the grave sites and headstones, then we display flowers and a food offering. Lastly we burn candles, incense and paper offerings to our ancestors. It is normal to see several thousand people converge at the cemetery on a specific date to honor their ancestors.
Ching Ming is very important to us, especially, since both my parents have passed. We now have a much better understanding of why we had been going to the cemetery since we were children. As a child, I did not know whose grave we were visiting, but today, I visit dozens of grave sites two times a year.
If you have Rosemary Gong's book "Good Luck Life", she wrote a very informative chapter about Qing Ming (Ching Ming).
Not all Chinese families follow the same practices. They may be customized to fit each families memories. Some families have forgotten this ritual, especially as descendants move far away from where their ancestors are buried.
Due to the Coronavirus, my family association made a wise decision not to host an official Ching Ming festival this year. However individual families and individuals can still visit the cemetery on their own to pay respect to their relatives, which is what I am planning to do."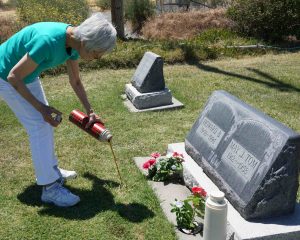 Ron Chan's Ching Ming Remembrances … When my mom, May, visits her parents at the cemetery, she brings two thermos, one with hot coffee with cream and sugar for her mother, and hot tea for her father. May pours a cup for each of them. Then kneels and then gently serves them tea over their final resting place … just as May did in life. Ron's kids then bow three times to honor their great grandparents.
Even though Ching Ming has been observed for thousands of years, my mother said, "No need to visit me when I am gone, as you loved me when I was alive."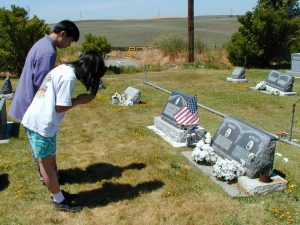 Please share how you honor those that came before you on Ching Ming in the comments section below ….