Sponsored by the Tsung Tsin Association of Hawaii
Saturday, November 19, 2022, 12noon Hawaiian Standard Time
2 P.M. Pacific (California) Standard Time/5 P.M. Eastern Standard Time
Sunday, Nov 20, 6 A.M. Guangzhou & Singapore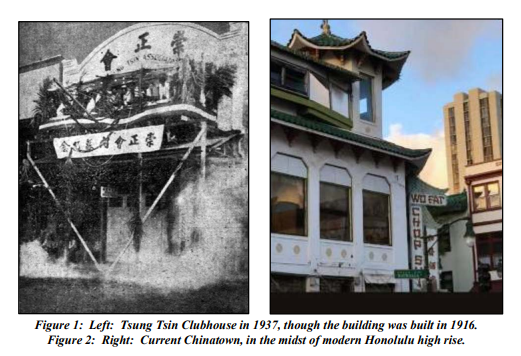 Honolulu's Chinatown as been the major focal point of commerce from the early days of Honolulu
and has been in a constant state of change and metamorphosis, sometimes gradual, sometimes
drastic. It represents a mixed plate of cultures, and closely reflects the many waves of human
immigration to Hawaii. In what is expected to be an extremely compelling and fascinating
webinar, it will take a look at the past, present and future of Honolulu's Chinatown, all through the
lens of the Tsung Tsin Association clubhouse building, which celebrates it's 107-year birthday in 2023
A Question & Answer period will follow the presentation.
Gary R. Coover was previously trained as a licensed civil engineer and has always had an interest
in building design and the people that had a hand in creating it. In his recently published book,
Honolulu Chinatown: 200 Years of Red Lanterns & Red Lights, he has done some extensive
historical research into hundreds of historical buildings in Honolulu's Chinatown from the turn of
the 19th Century to the present day.
To register, go to http://www.ttahawaii.com

Please enroll early. Limited to the first 1,000 participants, however a live stream to YouTube
will be available if exceeds capacity. No live Q&A available via YouTube