When: Oct 16, 2021
Time: 2:45 – 5:30 Eastern Time
Register: https://us02web.zoom.us/webinar/register/WN_6cnSAH8OSlKm4vWvsycFuQ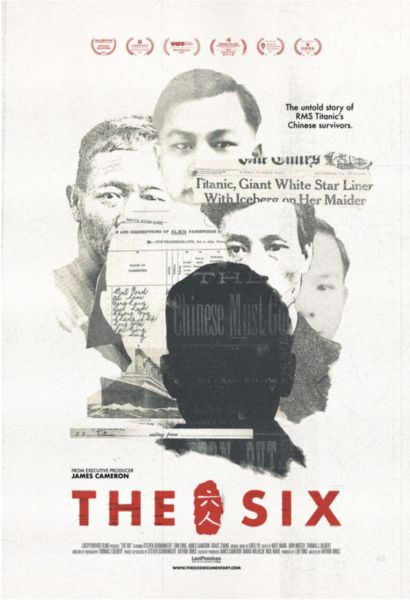 by Charlie Smith, Sept 26th, 2021, Straight,com
The Six brings history to life in revealing the untold tale of the Titanic's Chinese survivors
It's an astonishing documentary, capturing the hardship faced by Chinese pioneers in North America
The sinking of the RMS Titanic in the frigid waters of the North Atlantic is the most famous shipwreck in history.
The subject of Hollywood films, countless books, fan pages, and even a virtual-reality simulation project, it's hard to conceive that more can be learned from this disaster.
But a documentary at the upcoming Vancouver International Film Festival, The Six, does this with aplomb, telling the riveting and untold tale of eight third-class Chinese passengers aboard the vessel, six of whom survived.
One of them, Fang Lang, clutched to a door at sea as he was pulled to safety—inspiring a similar scene with Rose, played by Kate Winslet, in James Cameron's famous 1997 film Titanic.
Who was Fang Lang?
Why did he and seven other Chinese third-class passengers board the Titanic in Southampton on April 10,1914?
And why haven't the stories of these Chinese passengers ever been told before when so many other Titanic survival stories have been documented in incredible detail?
Shanghai-based lead researcher Steven Schwankert and his team take viewers on an astonishing journey to find the answers. There are stops in London, Halifax, New York, Chicago, a village in China's Guangdong province, and the Ontario cities of Toronto and Cambridge in unravelling this mystery.
With Cameron as one of the executive producers, it's not surprising that this documentary has exceptionally high production values.
Those with a keen interest in the history of Chinese pioneers to North America will be delighted by the film's respectful and accurate depiction of the so-called "paper sons": immigrants who had to change their names in order to get into North America because of draconian and racist legislation.
The Six likely won't generate the anywhere near the revenue of Cameron's blockbuster starring Winslet and Leonardo DiCaprio.
But this documentary is a far more important film.
That's because by telling a fully contextualized story, The Six builds empathy and appreciation for the struggles of Chinese pioneers who helped build Canada into the country it is today. It's a powerful statement against anti-Asian hate and offers a beacon to a brighter future.https://www.youtube.com/embed/jjIOni4LIL0?wmode=opaque&controls=1&rel=0&showinfo=0Video:
For links for the movie trailer, Meet the Researchers Behind the Six, and James Cameron on Titanic's Chinese Survivors go to: